About Wangi Food
Wangi Food was incorporated in 2013 by the third generation Ong Family with the aim of bringing quality Peranakan Food to the masses at affordable prices.
WANGI means "Fragrant" in the Malay language, and widely embraced by the Peranakans. Often good smell lures the hungry and sets the quality mark. This is crucial in Peranakan cooking where often the complex mix of herbs, spices and skills bring out the best in the dishes. With this same guiding principle, our food products prides itself to using only high quality ingredients, a testament of how important aroma takes centrestage in ensuring that you get the best out of our products and food.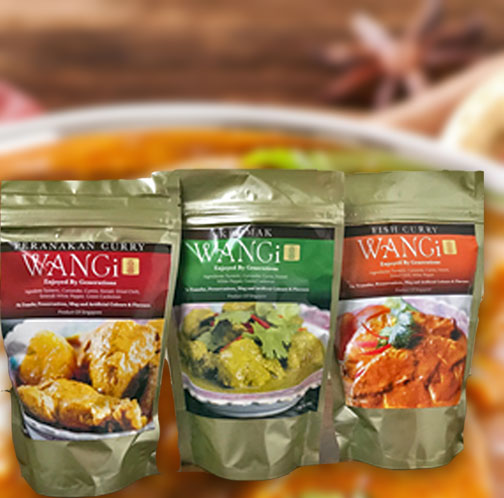 How It All Began…
Son of Ong Ewe Hai
Justice of Peace
First President of ACS Old Boys' Association
Co-founder of Singapore Chinese Girls' School (SCGS)
Successful Straits Chinese Merchant and Businessman
Philanthropist
Patriarch of the Ong Family
Our Story
Started by the 3rd Ong descendants, knowing that the food binds families together has long been an accepted practice in Peranakan households. This holds true for the Ong family as Peranakan food runs deep in our heritage, as we trace our roots back to Great Grandfather, Mr Ong Soon Tee who respectfully was the Patriarch of the Ong family in the early 1920s.
Influenced by his personal values of honesty, generosity, harmony and justice, Great Grandpa was a Justice of Peace, a successful Straits Chinese Businessman and a distinguished Philanthropist who in many ways, has made significant contributions to Society and to the Peranakan community here in the early 1900s.
Meal times in the Ong household were always a hustle and bustle affair and Peranakan food cooked to a spread with its alluring aroma never fails to draw the family togetherness.
His favourite dish was the Curry, lovingly prepared and cooked to his liking, surpassing his demanding expectations, all thanks to the perfect curry formulation of Grandma Siow Kim Lee who was highly regarded for her culinary skills in Peranakan cooking. Much of her well loved dishes are still savoured and enjoyed in the present day. ​
This very same taste and aroma is the legacy preserved to this very day and it is this legacy that WANGifood hopes to carry forward for the many generations to come.